Wowables – The Reusable & Biodegradable Paper Towel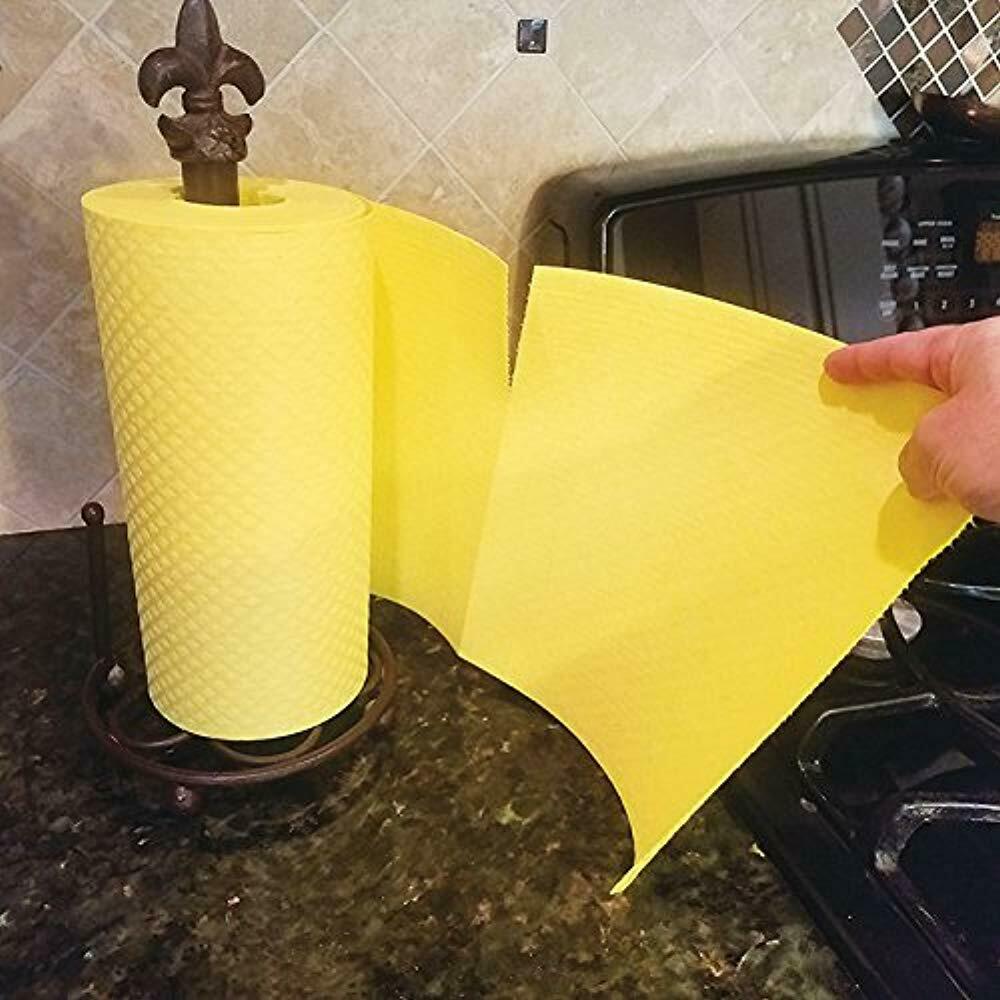 Few things are more useful around the kitchen than paper towels, but ordinary paper towels generate a lot of waste. If your neighborhood prepper has bought up all 6,000 rolls at your local store, they might even be hard to find. The answer to both these problems could be these reusable paper towels.
What You Get
When you purchase this product, you get a roll of 12 sheets of bright yellow, teal, pink, or purple reusable towels. They're made from 70% wood pulp, and the rest is non-GMO cotton that's also not bleached or infused with any weird chemicals.
Once you've used one, you can either rinse it out to use it again or throw it in the dishwasher or the washing machine to revive it. Throw it in on the cold cycle to "revive" it to its former glory. Just don't ever put in the dryer. The roll fits on a paper towel holder in your kitchen just like a normal roll.
How They Perform
Thankfully, these towels don't just perform like paper towels: they outshine their paper cousins in many respects. First, these have incredible absorbency, if they're a bit damp. Don't try to use them dry or you'll be bitterly disappointed. They work on food messes, clean bathroom and kitchen fixtures, and are also great for your floor. You can even use them in the garage for oil stains and similar messes.
What to Love About Them
The Wowables are far less likely to tear than ordinary paper towels, and you can even use them as refills for your dry mop sweeper. Considering how expensive those refills are, this could be a significant savings for you. One roll of these things can potentially last two years, depending on how much you use them.
These are also the only such towels on the market not to use a lot of toxic chemicals in the manufacturing process. Those sorts of chemicals are a given for similar towels made of microfiber or bamboo. They also dry much faster than you'd expect and resist growing odor-causing bacteria.
Anything Not to Like?
The only thing that might be off-putting about the Wowables could be the colors. Depending on your kitchen aesthetic, teal, purple, or bright yellow just might not be the color for you.
Once they're done, you can throw them in the garbage or compost them, and while that's all great, the company doesn't mention how they get the bright colors into these things. Is it soy ink? We just don't know. The company is very clear in its claim that the product is completely biodegradable, so it probably is soy or something similar, but the point is we don't know for certain.
Possibly the Best Towel Solution
If you're looking for a high-performing paper towel substitute that will save you money, go easy on the environment, and still be cleaning up messes when all the paper towels are bought up, look no further than Wowables. And for more great ideas, check out NextInGifts today.
Last updated on September 19, 2023 1:32 pm