Bialetti Moka Espresso Maker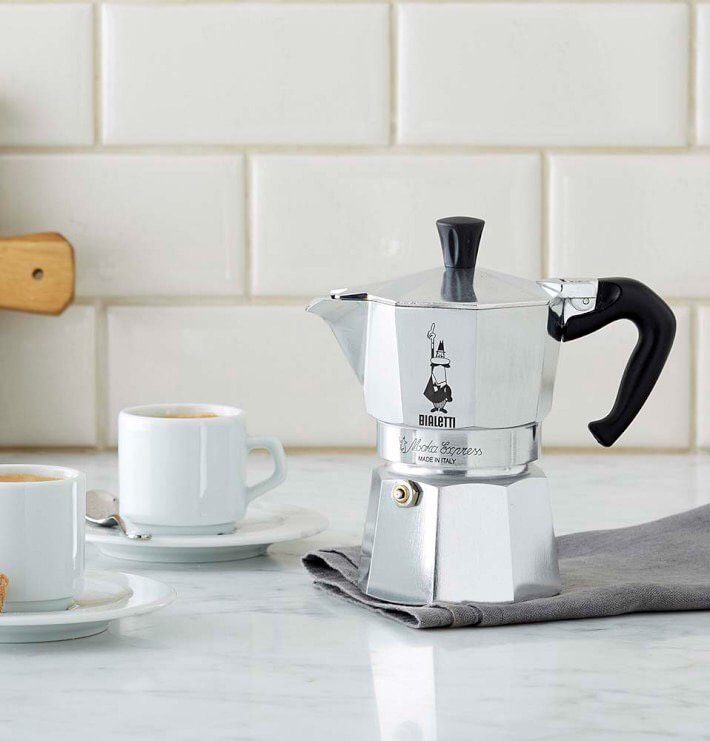 Are you a coffee aficionado? Do you crave that strong kick of caffeine to jump-start your day, but you don't want to spend hundreds of dollars on pricey espresso machines or gourmet cafes? Now you can take a different approach completely, with the innovative Italian way of making coffee: the Bialetti Moka espresso maker.
Innovative Design
This coffee method is beloved by Italians (who know their coffee!) The rich, velvety brewing approach delivers amazing and strong coffee at a fraction of the price of a full espresso machine. The two-part system is available in multiple sizes, and it uses a simple but effective design to deliver an exquisite cup of delicious brew every time.
Stove Top Moka Espresso Maker
The Moka espresso maker works in an innovative way that uses steam as the primary way of brewing your coffee. When placed on a hot stove, the water in the lower chamber is brought to a boil and rises quickly up into the midsection of the pot. Here, a unique funnel forces the water through the coffee in a pressurized way very similar to the pressurized method of brewing an espresso shot. The process takes less than five minutes to deliver a complex and satisfying cup of coffee.
Respected Manufacturer
The Bialetti design is widely respected in Italy and throughout the world for their superior craftsmanship. The value of this product is excellent and does just as good of a job as pricey espresso machines.
Uniquely Italian Style
Designed and manufactured in Italy, the stylish octagonal Bialetti comes in multiple sizes that can brew three, six, or more espresso cups' worth of coffee. A body made of high-quality aluminum allows the user to use it again and again, knowing that the pot will remain rust-free and highly effective.
The pot is very easy to use, disassemble, and clean. All you need to make great coffee is this pot, a stove, and some finely-ground beans. The grind for a Moka brew should not be all the way to a fine powder: perhaps just slightly less fine than a standard espresso grind. Somewhere between an espresso grind and a drip coffee grind is considered ideal.
Gourmet Coffee Every Time
To get the best and most rounded flavor, make sure that your grind is also as even as possible. This will allow the coffee bean's natural flavors to be evenly distributed during the brewing process. If you watch as the heated water rises up through the center of the Moka espresso maker, you will see the coffee forms a thick and satisfying foam in the upper compartment of the pot. This concentrated and satisfying brew can be enjoyed on its own or blended with milk foam to create a latte or a cappuccino.
The Moka espresso maker design may operate in a different way from a drip-coffee or espresso machine, but the end result is undeniable: a potent brew that will wake you in the morning, but won't break the bank in the process. For more ideas on great products and gifts, check out NextInGifts!
Last updated on November 26, 2023 10:48 am