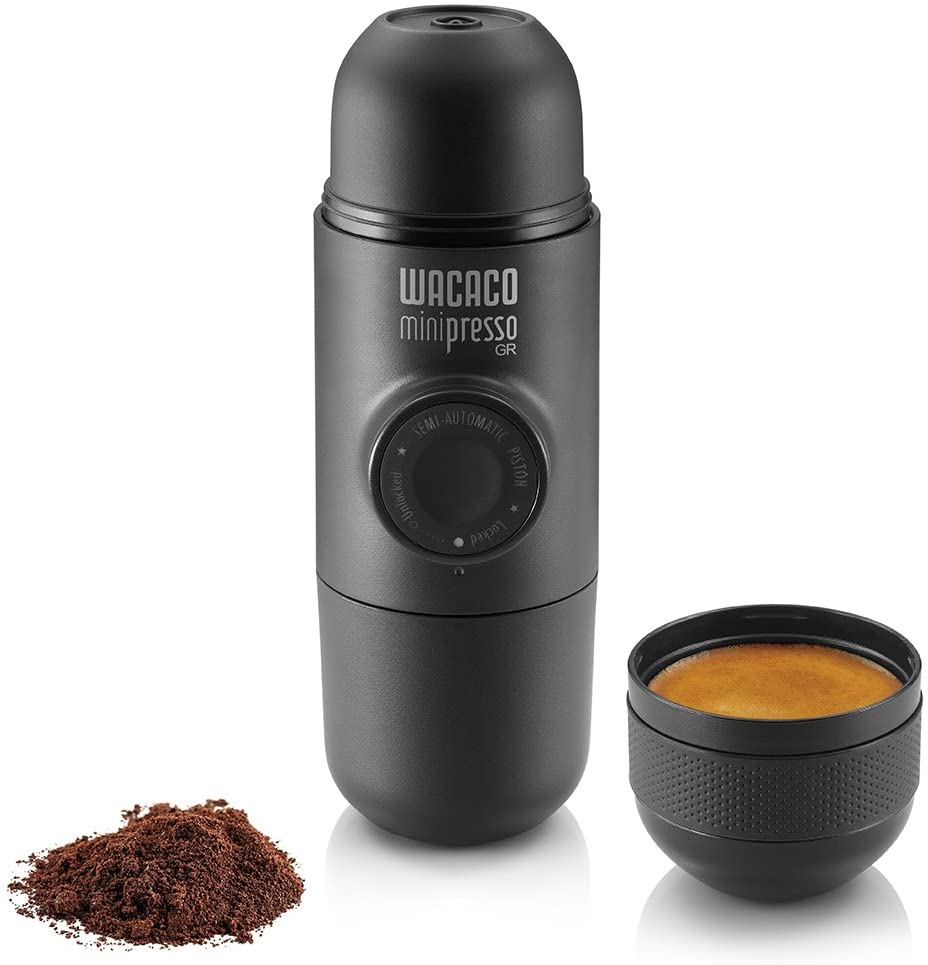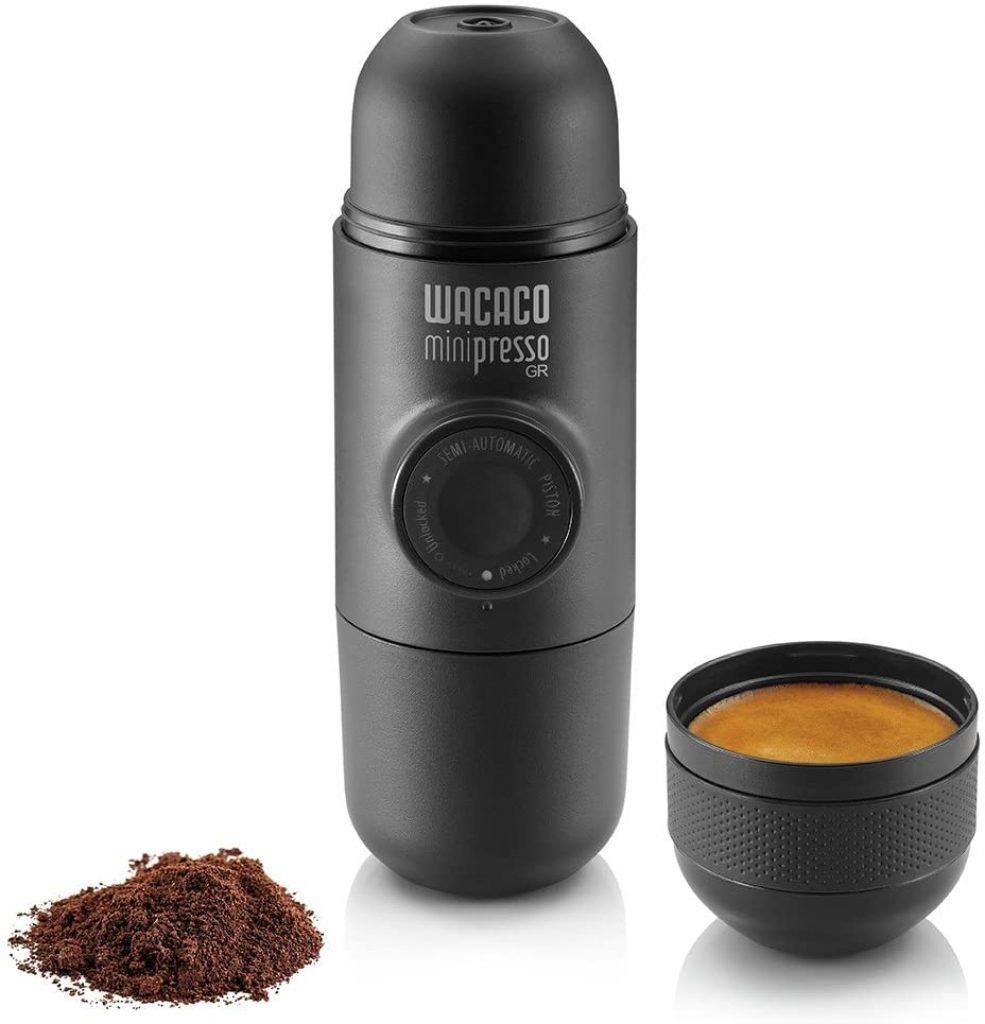 There's never a bad time to have a portable coffee maker. Whether you want to trek the Appalachian Trail for weeks on end or need a backup if the power goes out while you're "social distancing," the Wacaco Minipresso can do it all.
What It Is
The handheld Minipresso device needs no batteries or electricity. It comes in two versions, the GR, which uses whatever ground coffee you want to put in the basket, and the NS, which uses Nespresso-compatible pods. The only other thing it needs is boiling water. It weighs less than a pound, is just 6.89 inches long, and holds 2.35oz of water for one delicious, perfect shot of espresso.
It comes with its own cup, which doubles as a cap. If you want it to work for two, you can get the Minipresso kit, which has a larger water container and three cups, though this barely increases the weight and length. Whatever you choose, you'll never regret it.
How It Works
On the side of the device, you'll notice a large round circle. Twist this, and it pops away from the side and becomes your pump. Pop in a pod or your basket of ground coffee, fill the water tank with freshly boiled water, and then use the piston to force 116 PSI, or 8 bars, of pressure through the pod for a steaming cup with a gorgeous crema.
When you're done, you can choose to clean it out or simply pop the cap back on, twist the piston back down, and stick into a pocket and be on your way.
What's Great About It
A Portable Coffee Maker
If you want to be able to take fine coffee anywhere you go, this is the device for you. This will completely change your coffee game if you let it and save you endless amounts of money on overpriced coffee drinks.
Backup for Home Use
If you've already got a great coffee maker, you might not need this for day-to-day use. But what if you have to go without power for extended periods? This thing could be an absolute lifesaver. It's also the perfect backup for that sleepy moment when you press the button on your coffee maker only to find it doesn't work.
A Cheap Way to Enjoy Nespresso
If you love the high-quality coffee offered by Nespresso, but don't want to spring for a machine that costs a couple of hundred dollars, you can enjoy the perfect cuppa with just a tiny investment in the Minipresso. If you'd rather not pony up for pricy pods, you can grind your own until you find the grind that's perfect for your tastes and this machine.
A Workout for Your Hand
If there's a downside to this machine, it's only that pumping the piston requires the strength of the gods. When you look at the pictures of this machine, it will show you someone holding this device in one hand and using that same hand to depress the piston. Don't be fooled by this. You will need two hands to make it happen.
However, there's no doubt that if you use this every day, your grip strength will improve. Seen in this light, it's more than a way to make delicious espresso: it's also an effective hand gripper exercise device.
Enjoy Your Coffee Anywhere
If you like great coffee and want to be sure you can have it even when the lights go out, the Wacaco Minipresso is for you. For more great ideas on gifts for others–or yourself–check out Next In Gifts for more.
Last updated on September 21, 2023 5:41 am