Takeya Patented Deluxe Cold Brew Iced Coffee Maker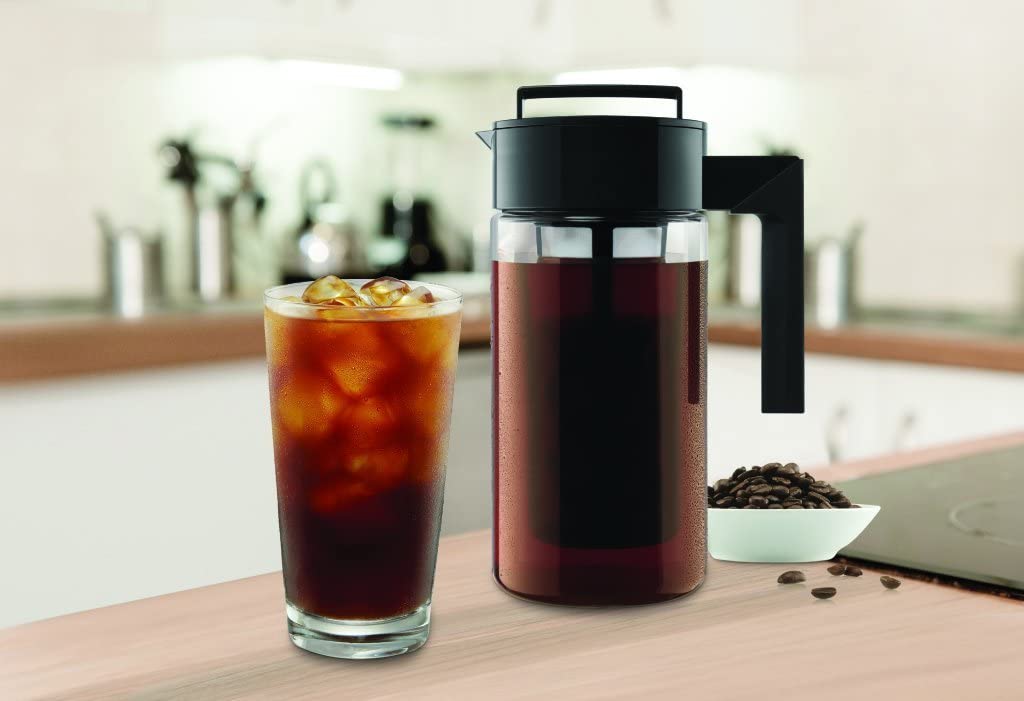 Cold brew: it's the best friend of the coffee lover in the summertime. When the weather gets stifling, there's no reason to be pouring yourself a steaming hot mug of regular joe. Cold brew has become a sensation in craft cafes and gourmet coffee shops, but because of this, it can often be an unreasonably pricey purchase. Now you don't have to spend top dollar. You can make your own at home with the Takeya Patented Deluxe Cold Brew Iced Coffee Maker.
Traditional Japanese Craftsmanship and Build Quality
With 55 years of Japanese design and tradition, the Takeya name is highly respected and proven to meet the highest standards of manufacturing. Their durable BPA-free bottles and pitchers are known and admired the world over.
Innovative Design
While the company Takeya is well-established, their designs remain cutting-edge. The Takeya Cold Brew Iced Coffee Maker is made from with a Tritan pitcher that is completely BPA-free. The lid is airtight for sealing in the coffee flavor and lengthening the lifespan of your brew, while the non-slip silicone handle ensures an easy and comfortable grip.
Perfect for Coffee Connoisseurs On the Go
Not everyone has time to brew a cup of coffee before running out the door to work. But with the Takeya Cold Brew Iced Coffee Maker, your coffee can be waiting for you in the fridge first thing in the morning. It fits in nearly any refrigerator door and is safe for dishwashers too.
A Customizable Contraption
This coffee maker lets you choose between a 1-qt and 2-qt size, with refillable filters to keep the flavor of your coffee at its best. If you change your mind and want a hot coffee instead, the Tritan plastic can withstand the higher temperatures.
An Affordable Choice
Cold brew is incredibly refreshing during a hot day, but it can be a great wake-up drink at home too. While cafes often charge an arm and a leg for this delicious drink, you can brew it for a fraction of the price in the comfort of your own kitchen.
Cold Brew How You Want It
Although they are often confused, cold brew and iced coffee are not always the same thing. Iced coffee may be brewed hot, chilled, and then served over ice. Cold brew, on the other hand, is brewed cold for a long period of time, making it a potent beverage for those who want a little extra kick in their cup. Whether you prefer the term "cold brew" or "iced coffee," when you brew it at home with a Takeya, the strength is up to you!
Delicious Cold Brew at Home Is a Click Away
The coffee maker produces four servings of cool, smooth brewed coffee that has a smaller amount of acid than many other normal brewing methods. By utilizing a state-of-the-art fine filter and keeping the grounds out of the rest of the fresh pot, the flavor remains at its peak. For a truly fine cup of coffee at any time of day, hot or cold, on the go or relaxing at home, the Takeya Cold Brew Iced Coffee Maker can truly do it all!

Last updated on September 11, 2023 10:09 pm