Sweetened Loose Leaf Tea Drops Standard Sampler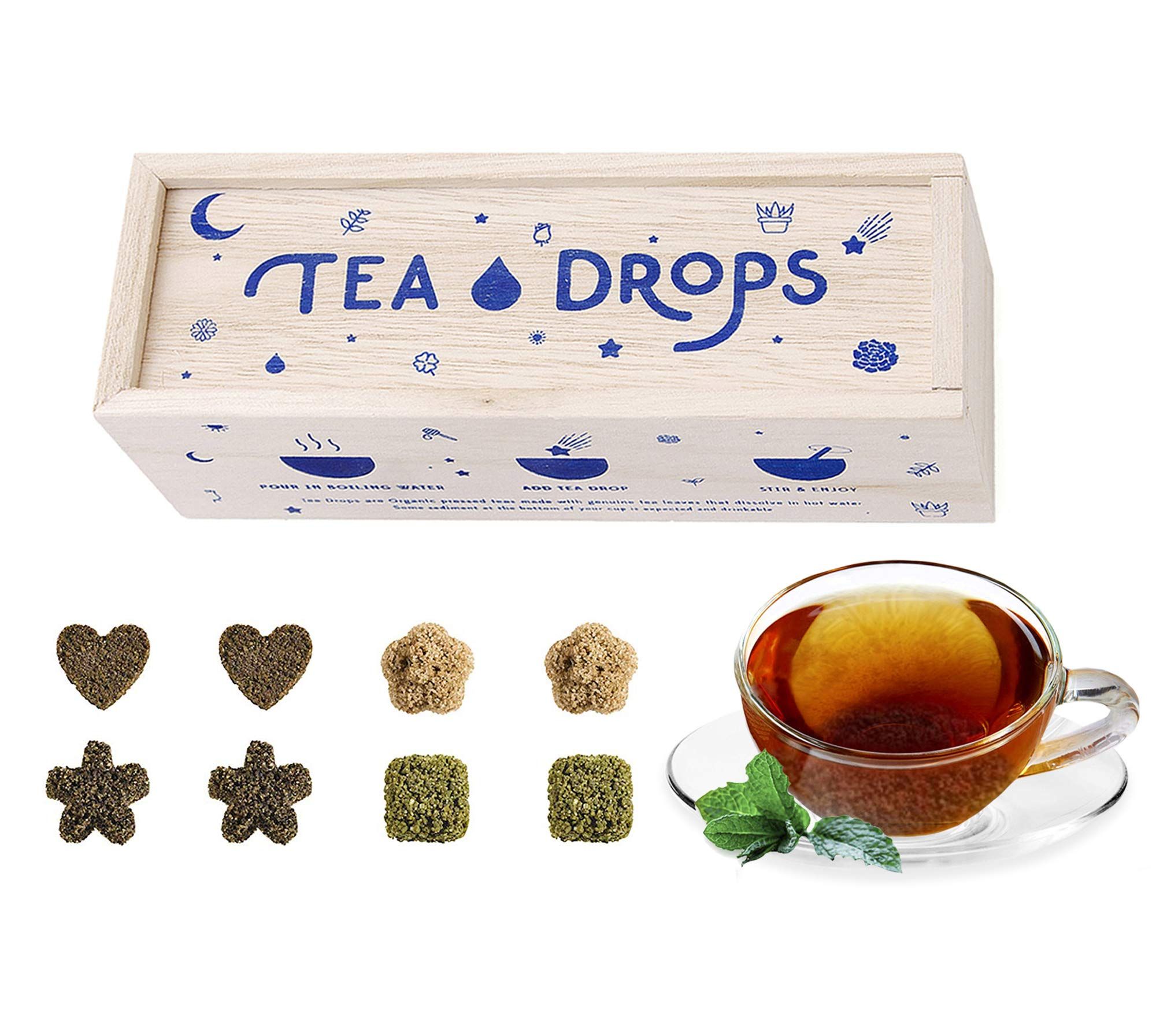 Are you looking for the perfect gift for the tea lover in your household? What if they already have all of their favorite teas and tea-making gear? Not to worry, because the brilliant minds at Tea Drops have created something completely new and unique: organic loose-leaf teas that will dissolve when they are dropped in your cup! The Standard Herbal Tea Sampler is a fantastic gift for the tea enthusiast who has everything.
No Infuser Necessary
These are not "artificial tea drinks" that don't contain actual tea––they are tea leaves that have been tightly compacted into a "drop." Each drop is then uniquely flavored with spices and lightly sweetened with organic cane sugar. The drop will dissolve on its own when it comes into contact with hot water.
With Tea Drops, there's no need for strainers, infusers, or complicated methods of brewing your tea. There's also no messy tea bag that you need to worry about! Simply drop your tea into a cup of hot water, and soon you'll have a perfect cup of tea without the fuss.
Caffeine or Decaf? Now You Can Have Both!
There are plenty of people who love the "pick me up" that comes from having a little buzz in their tea. And there are plenty of people who don't want to be awake all night after having a cup of tea in the evening. That's why the makers came up with two sets of flavors––some with caffeine, and some without.
Caffeinated teas include Orange Cinnamon Roll, Antioxidant-Rich Blueberry Acai, Calming Rose Earl Grey, Heart-Healthy Matcha Green Tea, Chocolate Earl Grey Tea, and Pumpkin Spice. If you prefer calm to caffeine, the decaf set includes Refreshing Citrus Ginger, Cooling Sweet Peppermint, Aloha Pineapple Chamomile, Forest Berry Shortcake, Chocolate Mint Chip, and Ginger Peach Cobbler.
Tell Your Fortune
When you are finished, there is going to be a certain amount of sediment at the bottom of the cup. It's completely safe to drink, and if you want, you can even tell your fortune by reading the leaves. Pro tip: look for anything that's significant to you!
Organic, Sustainable, Responsible Company
These teas are unique and sustainably sourced from multiple regions in the world. The company is American-owned and operated. The tea products are crafted in the US and are all USDA certified organic. The packaging materials used are recyclable, compostable, or biodegradable. This form of making tea generates about 20% less waste than brands that use traditional packaging methods.
Tea Drops Gives Back
In addition, the company is partnered with the organization "Thirst Project." This is a group that helps to bring clean water to people who need it. In this partnership, Tea Drops are helping to use their profits to accomplish something to give back to the world.
Give your tea-loving friend or family member a great and lasting gift––the delicious, convenient, and organic tea drops that have won accolades from casual tea drinkers and connoisseurs alike!