Boxing Reflex Ball Set, 4 Difficulty Level Training Balls On String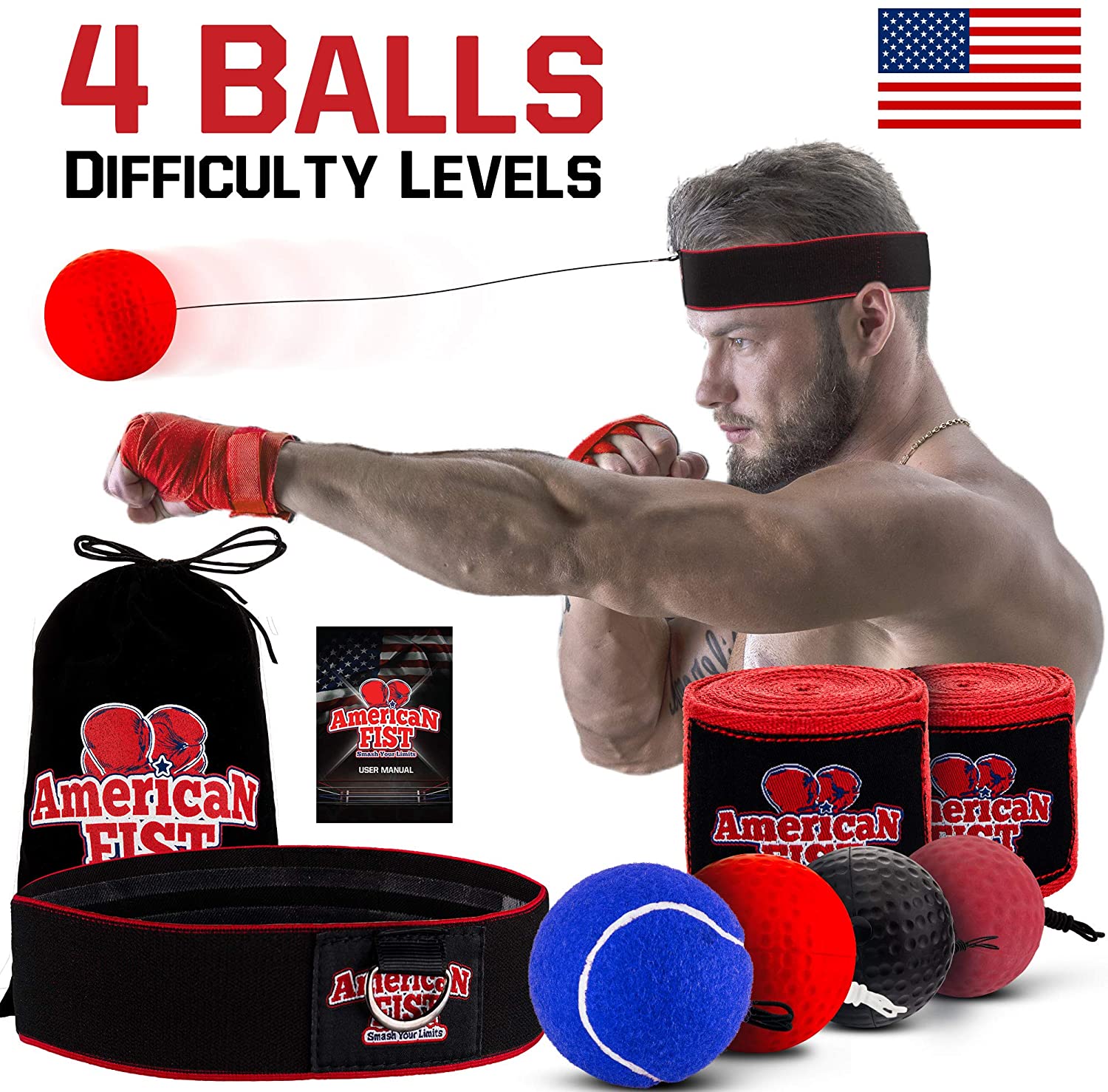 You're stuck inside, and all the gyms are closed. How do you keep up your reflexes, practice your boxing moves, and generate a good sweat all at the same time? You can do it all with the Boxing Reflex Ball Set by American Fist.
What It Is
The boxing reflex ball set is a training device, an agility and reflex trainer, and just plain good fun. Strap the headset on and then attach whichever ball you're ready for. Then you simply punch the ball away from you and hit before it can come back and slam you in the face.
That sounds terrible, of course, but it's actually the best incentive you could ask for in training! And don't worry, the worst part is the anticipation. This is a perfectly safe set and won't hurt you even if you miss, and the ball does come back at you. It's even safe for kids.
What It Comes With
The set comes with four balls that will return to you at different speeds. The Newbie ball allows you to perfect your moves, and the Veteran ball is for those who've mastered the basics and want to train up their reflexes. The Boxer level ball will come back at you even faster, but it's also the heaviest of the three and the most like hitting a bag.
The Beast Mode ball is not for the faint of heart. It comes back at lightning speed, and if you're not ready, your first instinct will be to duck out of the way rather than try to hit it. If you choose this path, you'll be sorry just a nanosecond before it hits you when you remember it's still attached to your head.
Once again, though, you won't get hurt, and you should see this as motivation; and possibly a good reason not to start with the Beast Mode ball before you're ready.
What It Can Actually Do for You
All jokes aside, the more you use this set, the better your hand-eye coordination will get. You'll also get better at defensive boxing techniques and head movement. The more you use it, the more muscle endurance you'll gain.
Possibly the best part about this boxing ball set for the actual boxer is the way it forces you to become highly accurate as you practice punching a very small target in just the right way. Of course, if you're not a boxer, the best part about it is that it's just plain fun to use and a good workout at the same time.
Anything Not to Love?
The head strap will fit a smaller head, but only reluctantly. Other than that, it's hard to find anything not to like. If you're stuck inside, and particularly if you have limited room for exercise, this could be the perfect way to train without leaving the living room (or practicing on a housemate).
You'll Love the Boxing Reflex Ball Set
This set is fun, inexpensive, and good for you, so there's no reason not to get it. When you're ready to treat yourself again or need another gift idea, check out NextInGifts for more.
Last updated on September 26, 2023 10:40 pm