Simpresso Portable Espresso Maker
The Simpresso is the newest portable espresso maker in the market compatible with Nespresso Original capsules and reusable, eco-friendly Smart Capsules for homemade coffee grinds. It also produces a superb espresso with Peet's Coffee espresso capsules, which is what most of us in our office prefer.
The makers of the Simpresso have cleverly named the product. Simpresso stands for "Simple to Make Espresso" or "Simple Espresso". Enjoy espresso anytime and anywhere. A review from Best Quality Coffee (shown below) suggests the Simpresso is "Simple" and "Impressive" and deserves these descriptive adjectives. In our opinion, the Simpresso is the best portable espresso maker in the market. More information about the Simpresso, a comparison with other products and product demonstration videos are below.
Simpresso Portable Espresso Maker Reviews
. . . In concluding this Simpresso review, I must say that "Simpresso" is a very fitting name for an espresso device that's both simple and impressive. It's clear the creators of this device have gone to great lengths to make this literally one of the best portable espresso makers on the market.
The Simpresso from Simposh makes this daydream a reality. Simposh's featherweight, compact, and versatile handheld espresso machine is like a coffee shop you can toss in your backpack. This tiny wonder weighs in at only 0.78 lbs. and measures a mere 8.46 x 3.15 x 2.56 in.
. . . Portable espresso makers come in a wide range of designs. When comparing options, pay attention to the following features:
Portability
Ease of use
Pressure rating
Capacity
Compatibility
Product Comparison – Portable Espresso Makers (Manual, Non-Battery Operated)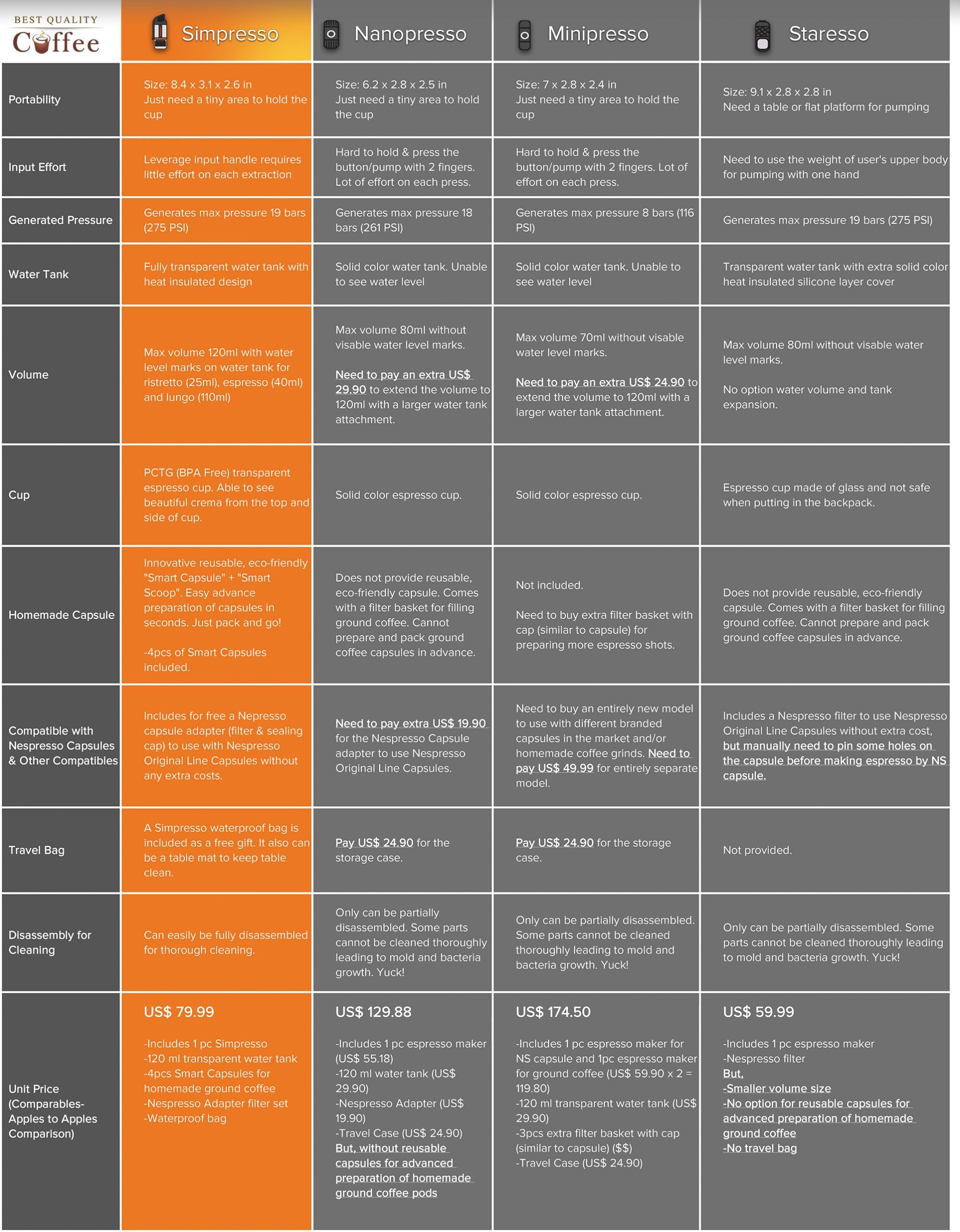 Last updated on September 30, 2023 7:23 am